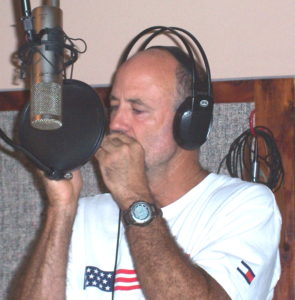 Playing harmonica was passed down from my great grandfather, to my grandfather, then to my dad. My dad taught me to play "Old Shep" on the harp when I was three or four years old. I then learned lots of other tunes and enjoyed just sitting around our country home playing the tunes my ancestors had played for many years.
In high school, I have great memories of playing and singing with my two great lifelong friends, Lanny and Kelly. Just after high school I met a guy while playing with a local group at small club in Commerce, Tx., who taught me the technique of cross harping. This really opened up the ability to play almost all the key changes and allowed me to play a variety of styles. It was almost like a whole new instrument and I was really excited about the possibilities it offered. (I have no idea who this guy was).
It was not much later when I met and started rehearsing and playing with a great bunch of guys later known as the Bois d' Arc Bottom Band. We all hit it off from the start and really had a blast for the next several years playing music and becoming a close knit group of friends with one great common denominator-the love of making music.
I enlisted in the USAF in 1979 and only heard from the guys occasionally until our first reunion in the late 1990's. Since then, we have hooked up several times a year for jams or live shows and I always look forward to our next get-together.
I'm thankful for the God-given gift of making music for many reasons. But above and beyond all the reasons, I'm thankful that the gift of making music brought me together with my lifelong friends, the Boys in the Band. I truly feel blessed to be a part of the Bois d'Arc Bottom Band.