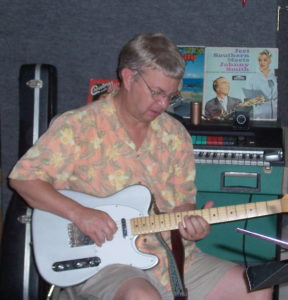 My interest in music goes back to 78 rpm records and pre-Elvis Presley. I remember listening to records on an old tube powered record player at an early age. Guitars didn't enter my life until the early '60's. My aunt had an old Silvertone f-hole archtop that I would borrow. I got my first guitar Christmas 1964, just after the Beatles hit the US. I learned a few chords but had no formal training. While in the U. S. Air Force, I bought a 12 string which was a pretty good old guitar. I purchased my first electric just before I got out of the Air Force in 1975. It was a 1966 Fender Telecaster. Even in 1975, I still didn't know a lot about playing but could play lots of chords and just a few lead licks.
My first band came into the picture sometime in mid-1975. I had just gotten out of the Air Force and some guys from Wolfe City had a group and they asked me to come down and play. I was scared to death to play in front of anybody. We had about 5 band members and we "practiced" a lot. I think we got to play at a club on Sunday nights on "free night". We were drawing more people than the house band during the weekend. I remember asking the owner for some compensation and he said, "I can't pay you guys, Sunday night is free night". We stopped playing there on Sunday nights and the club shut it's doors shortly after that. That was my first experience with the greed in music.
A short time later, we met these 2 guys from Honey Grove and we all decided to form a band and it was called "The Bois d' Arc Bottom Boys". I don't remember when we changed "Boys" to "Band" but that's the name we still call ourselves today.
The BBB played together from the end of 1976 to the first half of 1978. We had a full band and played lots of places in the North East Texas area. I think the remaining members of the BBB played their last gig at the Farmersville VFW in 1978.
I played in 3 other bands from 1978 until I stopped playing in early 1982. During this time, I was fortunate enough to get to meet and open for some of the biggest names in country music. I'm talking about Alabama in 1981, The Bellamy Brothers, Joe Stampley, Johnny Rodriguez and several more.
When I said earlier that I stopped playing, I mean I stopped playing in bands. I continued to play, buy, sell and trade guitars and amps until about 1994. I don't know what prompted me to start buying guitars again but I started finding some vintage guitars and amps around 1994 and since then I have continued buying, selling and trading guitars, amps and other musical instruments on a regular basis.
Forward to 1997. Lots of the bands from the 1960's and '70's had started re-uniting for reunions and even tours. I thought that might be a fun thing for the BBB. I located each member and sent them a letter. I got 100% positive response from every member and that summer we were able to hold our first reunion jam. It was great fun. This has continued, every year, since 1997. Some years we were only able to get together once a year but a few times, we have gotten together more than once a year. This reunion has been so much fun. We were a little rusty when it first started, but now we are almost as tight as we were in the late 70's.
I can't stay up as late as I used to do but I still enjoy playing the old songs we used to play and learning some newer songs. I have a few more years to work, until I can fully retire, but I hope I am able to continue playing music for many years to come. This reunion of the BBB has built on the close friendships we once had. I want to thank everyone in the BBB for being my friend and for some fun times. BR
Continue to Boyd's Bio