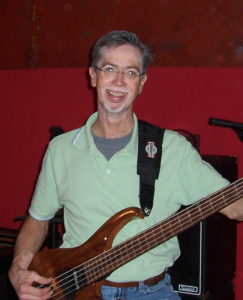 The freelance bassist credits his musical roots to childhood memories of hearing dixieland and modern jazz recordings playing on his father's HI-FI. Kelly's friendship with the dynamic voice of Lanny Milton and the atomic harmonica of Phillip Rozell goes all the way back to elementary school and throughout high school. It was during this time that Kelly was introduced to the C&W sounds of the telecaster guitar, pedal steel and Merle Haggard, to pointed-toe cowboy boots, string ties and Bob Wills and the Texas Playboys. The summer following graduation day and the FM radio sounds of progressive country music produced the friendships with, and the formation of, the Bois d'Arc Bottom Band.
Performing on the Country and Western dancehall circuit with bandleader turned western artist, RJ Vandygriff (The Cowboy Ain't Dead Yet) helped Kelly develop a deft, versatile playing style. Turning his study to the syncopated bluegrass rhythms of Bill Monroe, Flatt and Scruggs, Doc Watson, and Texas Fiddler Louis Franklin, then led Connell to festivals and fiddle contests throughout Texas and Oklahoma.
Now currently persuing the genres of Western Swing, Gospel, Country, Bluegrass, and Top-40 Rock, Kelly continues to perform at churches, area fund-raisers, oprys, and musical shows whenever possible. Recent performances include dates with Bois d'Arc Bottom Band, East Mountain Bluegrass, Highway 19, Alpha String Band, RJ Vandygriff, Bois d'Arc Dixieland Jazz Band, and the stage production of "Always Patsy Cline".
Connell maintains the mission statement "Git-er-done!" and likes to quote Bob Wills by saying "Deep within my heart lies a melody".