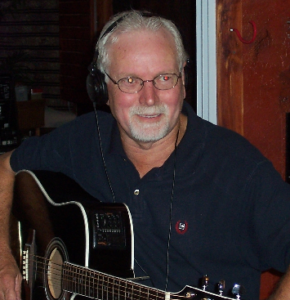 My musical interests began in my high school years when I played guitar in a band with the drummer of the Bois d' Arc Bottom Band, Mike "The Coach" Erwin. I must say our interest were more on cars, motorcycles and girls than music. I'm sure it was an age thing!
Although I dabbled a bit with the guitar off and on over the next few years, I never took it very seriously. I did manage to save enough money while in the military to buy a Ventura 12 string guitar. I regained my interest and had returned to my practice routine when some jerk stole my hard earned beauty. My interest level was on the low side again.
I began to play again once I got out of the service. It was about this time I made my first attempts at writing. I had just returned from Viet Nam and most of what I wrote I felt wasn't worthy of anyone seeing Most of those thoughts were better left unsaid to begin with. I have always felt the best songs come from ones life experiences. I think if you have lived it, you write from the heart. If you write from the heart, somewhere and somehow, you're going to touch somebody with that song.
THE INTEREST IS ALIVE AND WELL:
I watched my musical interest go full-blown one night by the sound of a five-string banjo on the square of downtown Honey Grove, Texas. Strapped to that five strings was a young man that would not only become one of the finest musicians I would ever know but also one of my closest friends. In the coming months Boyd and I would spend many hours with that five string and my old guitar "pickin' and grinning" and ridin' the roads in a GREEN MUSTANG.
We soon met and joined forces with the boys that would become the Bois d'Arc Bottom Band and our close friends. The talent that each of these individuals brought to the group still amazes me to this day. I recall our first show as a group on the stage of the Greenville Municipal Auditorium. After the curtains went up and I got over the shock of seeing that many people, I've been hooked ever since. I am once again living a dream I thought had long been lost, this time with a much clearer head, thanks to a loving wife, beautiful children and wonderful grandchildren.
I think most people in the business have someone or some group they admire. I have had different ones over the years that impress me as artists. But the ones that I have grown to admire the most are the guys I get to play music with on not near enough occasions. So to my BBB brothers, I say "Thank You for this opportunity to live this dream. May God Bless. Mo