In The beginning Boyd and Gary lived across the street from each other in Honey Grove Texas. Gary had lived in California and returned to Honey Grove and that's where the duo reunited. Boyd and Gary began playing banjo and guitar together and wound up playing a live show at KFYN Radio Station in Bonham Texas.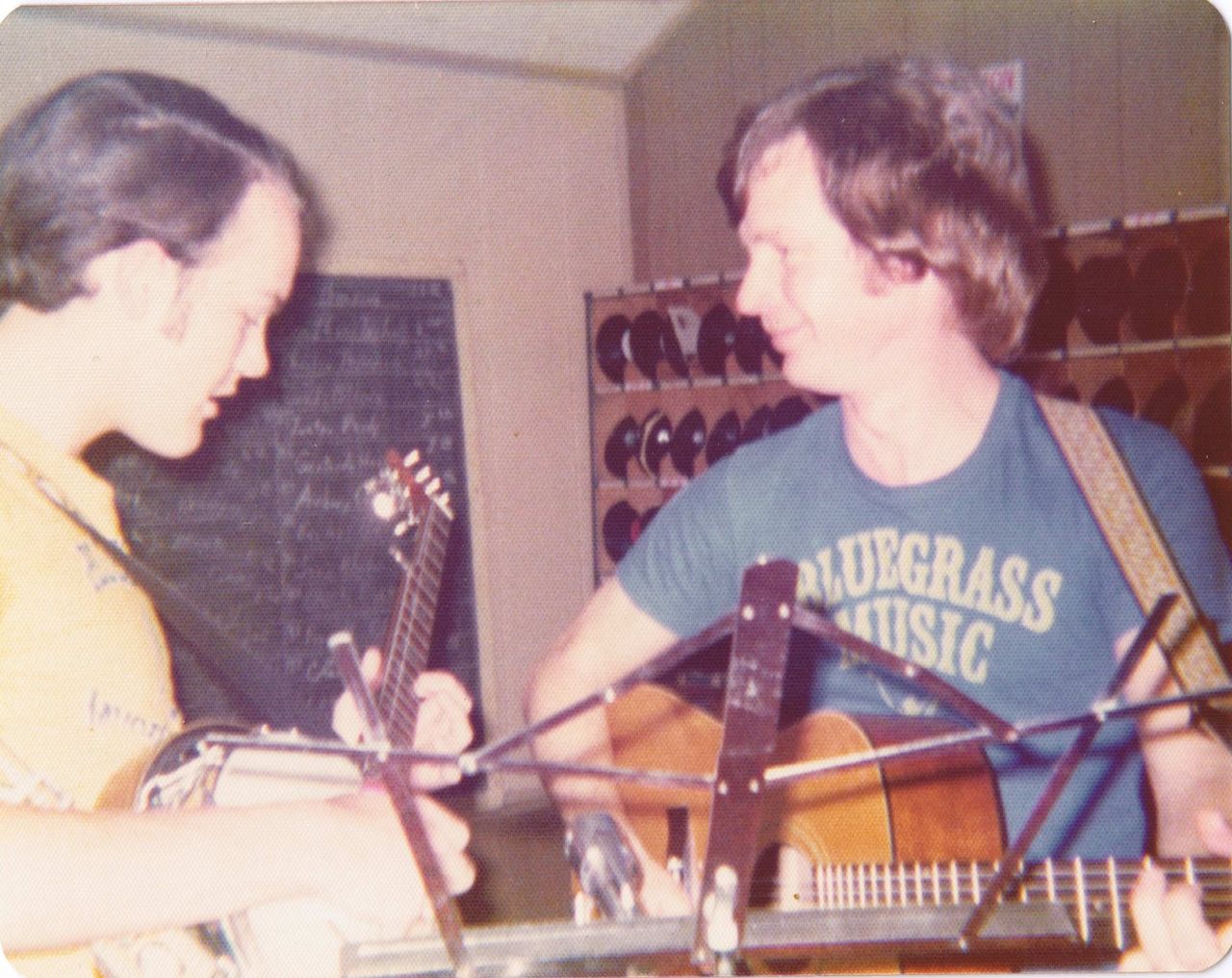 Area Band Finds Hardships, Hopes in Performing
A newspaper article from 1976
The Bois d'Arc Bottom Band" has come a long way since the night they were reprimanded by a sponsor of the Ladonia Rodeo for playing a Rusty Weir tune "I Heard You've Been Laying My Old Lady," at a dance following that event.
Not in terms of distance, with Ladonia only 12 miles from Commerce, but more importantly in the sound of their music which has made a "drastic" change, in the band's opinion.
Appearing every Friday and Saturday night as the house band at The Key, 1603 Live Oak, three instruments and two members have been added to the original six-member progressive country group which began as a band at the rodeo dances of last summer.
The drums, played by Mike Erwin, 27, Honey Grove, organ and electric piano music provided by Gary Manning, 28, Bonham, and the Sho-bud steel guitar music of Boyd Hudgens, 20, Honey Grove, banjo picking member of the original band, comprise the recent additions to their sound.
Erwin, an ET graduate who now teaches English and coaches' basketball at West Lamar High School in Paris, joined the group about six months ago. "He's got to be the fastest drummer around," Hudgens stated.  "A banjo is a pretty fast instrument, but the other night I couldn't keep up with him."
That may be saying a lot for Hudgens, an electronics engineering student at Paris Junior College, who won first place at ET's First Bluegrass Festival.  The self-taught musician, who also teaches digital electronics at E-Systems in Greenville, plays a variety of stringed instruments. Hudgens is also credited with having given the band its name.  The "bois d'arc bottom" is an area of forested lowland northwest of Honey Grove and Bonham approximately 30 miles from Commerce.
Manning, who will graduate from ET this semester with a degree in social work, not only provides the keyboard sound to their performance, but also does back-up vocals and sings lead on some songs. Manning has been with the band about two weeks, after moving back to this area from Houston, where he played professionally with "Hard Times", a western swing and country band.  They played at various clubs in Houston and appeared once on television.
Gary Don Moreland, 28, Honey Grove, sings lead vocals and plays rhythm guitar with the group.  He is introduced on stage as "the bod" by Manning, who makes light of Moreland's five years experience as a mortician.
Bob Robinson, 27 a former ET student who hails from the small community of Gober, utilizes his ear for music by providing lead guitar on his Les Paul and doing some back-up vocals on stage.
Kelly "Hip" Connell, 19, a former ET student from Wolfe City, is bass player for most of the show, but also is featured playing fiddle and doing vocals on a couple of songs.
Another ET student, David Trout, 22, Bonham, sings lead on several tunes, as well as playing rhythm guitar with the band.  He is scheduled to graduate this semester with a B.S. in industrial technology.
Harmonica and harmony vocal notes are provided to complete their musical performance by Phillip Rozell, 20, Wolfe City.
Although they rely heavily on the songs of Waylon Jennings and Willie Nelson, with Moreland doing a close version of Willie's vocal sound on "Good Hearted Woman" and "Devil In A Sleeping Bag", the band adds some versatillity to the "honky-tonk" atmosphere of The Key on the weekends.
Their bluegrass tunes are accentuated by the wild banjo picking of Hudgens, and their copies of the Southern-rock sounds of Charlie Daniels and Marshall Tucker come convincingly across with Trout's vocals.
In the "dim lights, thick smoke" atmosphere of the club, three original songs by Moreland are performed, along with some classics written by Merle Haggard and Charlie Pride to inspire the audience's beer-drinking and dancing.
"We're building a crowd right now," Moreland explained of their performance.  "It's hard splitting the money eight ways because we're not making that much financially, but maybe someday we can make up for these poverty-stricken days."
Most of the members agreed that their greatest hardships had been financially oriented.  They estimate a present investment of around $8,000 to $9,000 in musical equipment.
Robinson stated that "finding time to get everybody together" witih everyone involved in different occupations to support themselves, was the only other problem they had encountered as a band.
Although each member had individual comments as to their future aspirations, all were success-oriented as might be expected of musicians trying to make it financially as well as professionally.
"I'd like to play in front of 30,000 people," Robinson commented.  Connell added he would like to "play at the Grand Ole Opry."
"We want to cut a record of some of this original stuff," Moreland remarked.  "If we could just become a household name," he said of his dreams.
Meanwhile, the band wants to continue working on their stage act and reworking new versions of old tunes.
The burly Manning, in one of his descriptions of the band's music, simply called it "good Texas music." His statement, along with the most often repeated comment of "they're good ole boys" among their listeners, makes for a good summation of "The Bois d'Arc Bottom Band."
They're just "good old boys" who do a heck of a job playing "good Texas music."
(By Max Pierce, Entertainment Editor, THE EAST TEXAN)